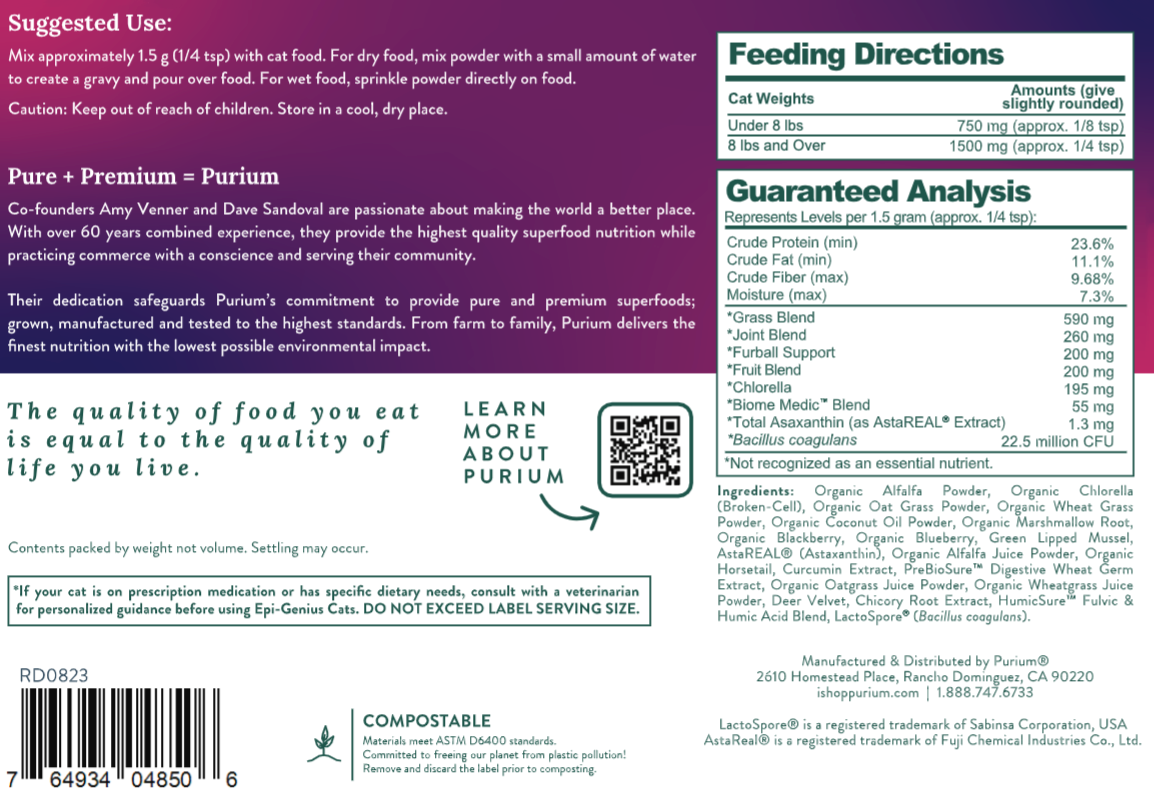 Epi-Genius Cats
Loyal Customer Price: $39.71 USD
Retail Price: $52.95 USD
Product Benefits
Epi-genius Cats is the one and only cat supplement with Biome Medic, which has been clinically proven in humans to dramatically reduce glyphosate in as little as six weeks. The formula also includes ingredients that support healthy joints, flexibility, and movement to help them continue in their acrobatic (and entertaining) ways. Nutrient-dense superfoods and marshmallow root, a special furball-reducing/controlling herb can help eliminate frequent hacking. So as we said at the beginning, cat lovers get it - and we get cat lovers! And now it's time for cat lovers to get Epi-genius Cats.
Suggested Use/Ingredients
Suggested Use:
Mix approximately 1.5 g (1/4 tsp) with cat food. For dry food, mix powder with a small amount of water to create a gravy and pour over food. For wet food, sprinkle powder directly on food. Caution: Keep out of reach of children. Store in a cool, dry place.Suggested Use:
Under 8 lbs 750 mg (approx. 1/8 tsp)
Over 8 lbs 1500 mg (approx. 1/4 tsp)

Ingredients: Organic Alfalfa Powder, Organic Chlorella (Broken-Cell), Organic Oat Grass Powder, Organic Wheat Grass Powder, Organic Coconut Oil Powder, Organic Marshmallow Root, Organic Blackberry, Organic Blueberry, Green Lipped Mussel, AstaREAL® (Astaxanthin), Organic Alfalfa Juice Powder, Organic Horsetail, Curcumin Extract, PreBioSure™ Digestive Wheat Germ Extract, Organic Oatgrass Juice Powder, Organic Wheatgrass Juice Powder, Deer Velvet, Chicory Root Extract, HumicSure™ Fulvic & Humic Acid Blend, LactoSpore® (Bacillus coagulans).
Videos & More
By submitting a review, you agree that we may post this review and photos to Purium Health Products websites and marketing content.